A CEREDIGION community is hopeful that it can launch its own bus service by the end of the month.
An open day held in Cellan's Millennium Hall on Thursday 16 November, revealed the Cellan and Llanfair Clydogau loop service could launch as early as the end of this month.
Members of the 585 Bus Campaign Group, who have organised a large part of the project, hosted the open day event to raise awareness of the loop Saturday service, and to hear local people's thoughts about it, as well as learn what their transport needs are.
The group have been working on the pilot scheme for months, with the aim of launching a Saturday looped bus service running through Cellan, Lampeter, and Llanfair Clydogau to replace the 585 Saturday service that has been stopped.
They hope to launch the pilot scheme in the run up to Christmas, with the first service running on 30 November.
The bus would stop in six places throughout Cellan, Llanfair Clydogau and Lampeter. The stops for the bus would be Lampeter's Rookery car park, Lower Cwmann, Cellan, Llanfair Hall, Llanfair's Old Shop, before looping back to Lampeter.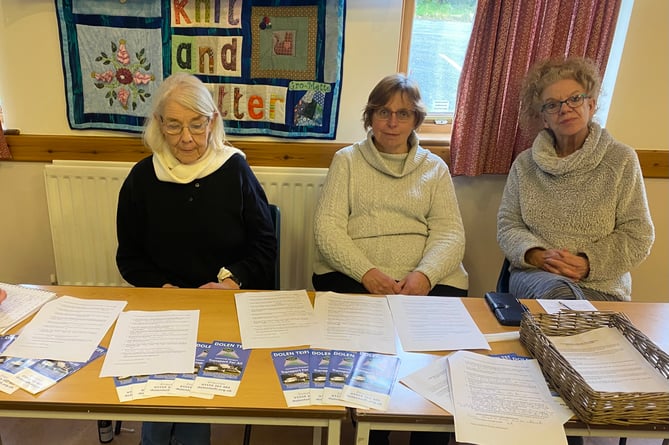 An open day has been held to put forward community plans to launch its own weeknd bus service
(Cambrian News)
Ceredigion county councillor Eryl Evans and a representative from Dolen Teifi - the group offering training and buses to the looped service project - attended the open day and said: "We've got a very proactive group here who are keen to set up the Saturday loop service. A few people have come in today, and there have been lots of comments and answers to the questionnaires handed out by the 585 campaign group. I haven't seen the responses but from what I've heard, the campaign group is happy with the responses it has had."
585 Campaign Group member Christine Lambert said: "There's a lot of interest in the project amongst people travelling on the bus now. Several people have come here today and filled out questionnaires, and we've had some very interesting responses from a diverse range of people from all ages. "
The group have shown 'concern' about the number of volunteer drivers they have to work on the service, and it has still not been confirmed whether a grant that Llanfair Community Council applied for to fund the project will be successful.
Christine Lambert said: "Our only concern is that the whole thing hinges on finding enough volunteer drivers. We've had some people showing interest already, but the more drivers we have volunteering, the less commitment it will be for each of them."
If you would like to volunteer as a driver, you can contact the service's organisers through this by emailing [email protected]