A runaway dog missing for four days has been found after her owners cut their holiday short to join the search.
Margo the miniature dachshund went missing from a dog kennel in Dolgellau while owners Terry and Lynda Morris were in the Canaries.
Our video above tells the tale of Margo's adventures, which you can also read in full here.
When her worried owners heard the news on Saturday, 4 November, they were concerned, but daughter Alice travelled from Wrexham to look for little Margo.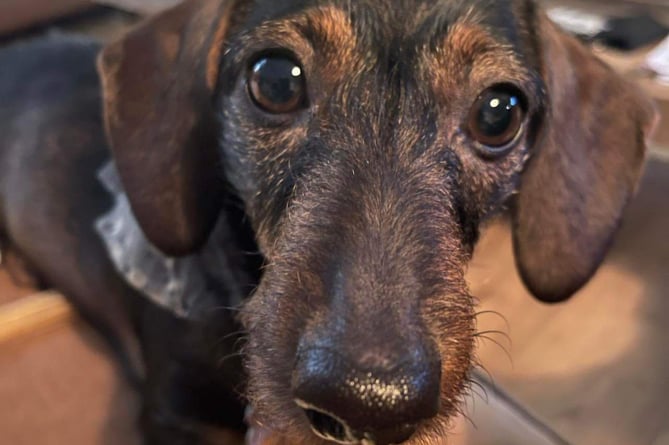 Margo was missing for four days
(Terry Morris)
Assuming she would be found quickly, the couple continued their holiday, but when they heard on Sunday their beloved pet was still missing, they flew home four days early, on Tuesday, 7 November, to join the search.
"There was no way we could stay out there with her running around somewhere," said Terry. "She had been spotted initially on the A470 by lots of people who tried to catch her but couldn't. They managed to herd her towards a caravan park away from the road. But there hadn't been any sightings of her since Sunday so we were getting worried.
"When we arrived on Tuesday I sat out all night calling her. On Wednesday my wife and I walked around and called for her. We heard a yelp in the field next to us and I scrambled up a wall and jumped a fence to get to her.
"The first thing she did was roll over so I could rub her belly!"
Terry and Lynda run a dog collar and bandana business called Toby's Tails, named after their other dog, a Patterdale Terrier.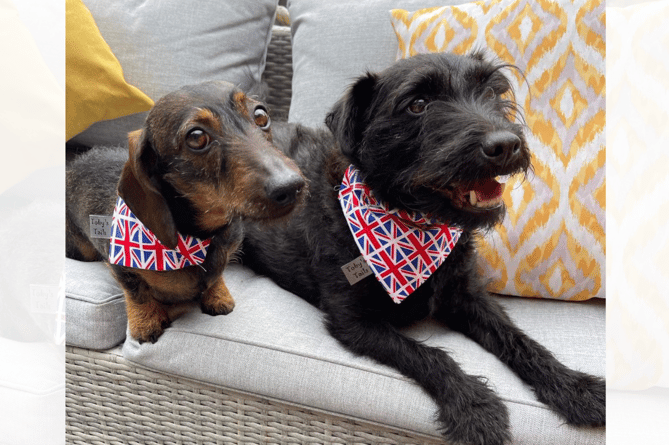 Margo and Toby
(Terry Morris)
"Margo goes to all the craft fairs with our stall and is very well-known so she's a bit of a star and a bit of a character," Terry explained.
"And although we actually found Margo, we probably wouldn't have without everyone's help in the area. Thanks to people reporting sightings of her we had a rough idea where to look. We thought she might have been trying to get back to the kennels and when we found her she was two fields away so she'd done a big loop according to sightings."
One of those sightings was reported by their daughter Alice, as Lynda explained.
She said: "Margo was wearing her bright orange Halloween bandana and Alice saw an orange flash first and clocked it was Margo. She is brown and tan and at this time of year she was quite camouflaged."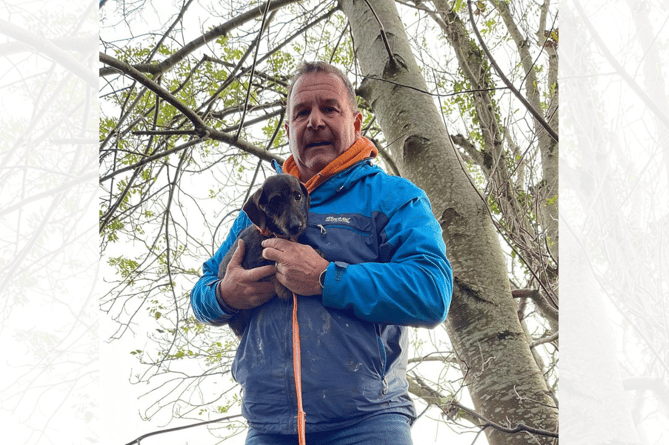 Terry and Margo, just after she was found
(Lynda Morris)
To thank everyone for looking for Margo, Terry and Lynda invited the search party to their Gellilydan home on Saturday, 11 November.
"We invited everyone for tea, cake and a cuddle with Margo. They are lovely people we didn't know before this and they all just volunteered to help find Margo."
Unfortunately Jamie Tyrell of South Snowdonia Dog Search could not attend, but many of those who joined him in the search, who are named on the group's Facebook page, were able to meet mischievous Margo in person.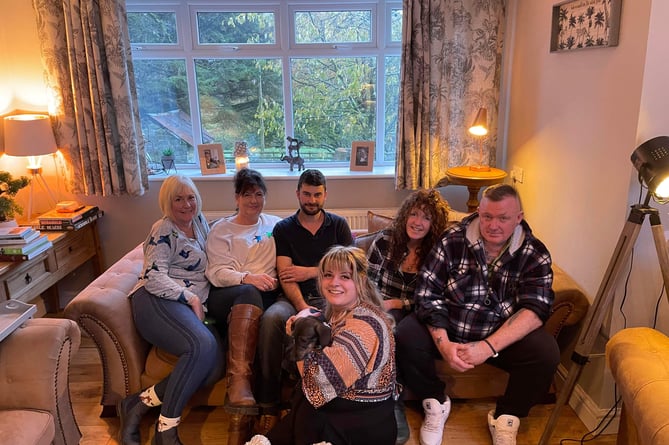 Lots of people tried to find Margo including, from left to right, Janet, Babs, Sam, Terry and Lynda's daughter Alice (front holding Margo), Rhian and Martin
(Terry Morris)